https://cinnamonteal.in/authors/firdaus-ahmed/
Books under my pen name
Also see my other blog -
www.subcontinentalmusings.blogspot.in
The book comprises of commentaries by Firdaus Ahmed over the last few years. These articles, which largely deal with South Asian security issues, have appeared throughout 2014-15 in various respected publications such as indiatogether.org, Kashmir Times and the Milli Gazette. Collectively they make the case that South Asia is 'one' and should come to be seen as such. The security of its states and people is intertwined. South Asian states should move towards a South Asian union. The articles make this case obliquely in covering issues in Indian security, and point to how these overlap borders. Some themes dealt with in the book - India-Pakistan relations, Kashmir, India's Muslims and the rise of religious extremism - clearly show that most problems lend themselves only to a South Asian, rather than national, solution. The book continues engaging with the issues addressed in Firdaus Ahmed's two earlier books, Think South Asia and Subcontinental Musings (both CinnamonTeal 2014).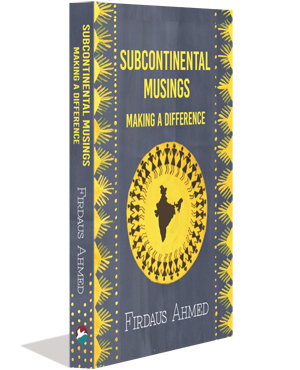 The book interrogates India's strategic trajectory, decisions and events from the liberal perspective in security and peace studies. The aim is to inform the public debate on security issues. It is a record of the 'interesting times' in the security field since nuclear weaponisation in the subcontinent.
The book comprises commentaries authored by Firdaus Ahmed covering the 'interesting times' which India and the region have been through since South Asia acquired a nuclear backdrop. The author's observations from his ring side seat in the region cover all dimensions of security - from internal security to nuclear war. The book offers an alternative - liberal - perspective on security. It would be of interest to students, researchers, policy wonks and attentive public. The book is a contribution to the peace discourse in the region.